ELDER
TIFFANY VALLERY
Director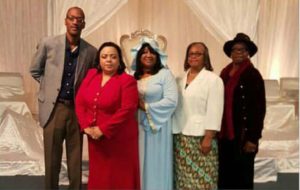 Women throughout time have always played a very important role to God. We carry the future in our wombs and have a very strong sense of nurturing in our beings. God has always placed the woman in places to be an answer of wisdom in difficult times. Esther was placed in the Kings life in order to bring salvation to Gods people. Rahab although her life wasn't considered one of reputable choice but she was yet chosen to make sure the Jewish spies was protected from being handed over to the king. There was Mary Magdelene who was delivered from many demonic spirits and yet she became one of the most faithful women to Jesus who loved her Master and just wanted to serve Him and follow Him. Last but not least is Mary the Mother of Jesus, who was an engaged virgin chosen by God to carry His only begotten son and had to suffer the ridicule of man because she never knew a man but yet carried a son in her womb. Women have many roles in life and we need to have great wisdom in order to successfully fulfill each role every day. The Ladies of life ministry is designed to empower women in every aspect of their lives. We minister the word of God to the women to bring forth salvation, healing, deliverance, and to break bondages. Our focus is that the women feel the freedom of God and are empowered to conquer life's challenges and to fulfill the callings of God on their lives. We have made it our purpose to help each sister collectively and individually.
Our mission is to
Teach the women the Word of God
Make sure women understand the importance of a relationship with God through studying His word and through prayer
Help each woman to discover their calling
Transform the minds of women to see themselves the way God sees them
Make sure women know their role in society
Help women master their roles in the household like the Proverbs 31 woman
Teach each woman to be builder in their communities
How To become pillars in our church
The Ladies of Life Women's Ministry meets at Life Cathedral Worship Center on the second (2nd) Thursday of every month. We look forward for every woman in our church and our community to come and be part of our sisterhood and prayer circle.
CONTACT US:
Phone: 225.644.5445 / Email: lol@lifecwc.org